Apparently, listening to music makes eggs healthier. Yes, chicken eggs.
"From the day they hatch, the chicks at Chung Hing listen to what 35-year-old farmer Fong Chi-hung calls "age-appropriate" soundtracks: 15 days or younger listen to softer love songs; those 16 to 30 days old get faster-paced disco music. Once chickens exceed 30 days old, the music selection becomes much more flexible."
Check out the oddness: http://blogs.wsj.com/scene/2011/02/22/is-it-the-chicken-the-egg-or-the-music/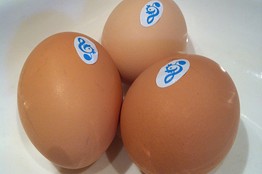 The little stamps are so cute!